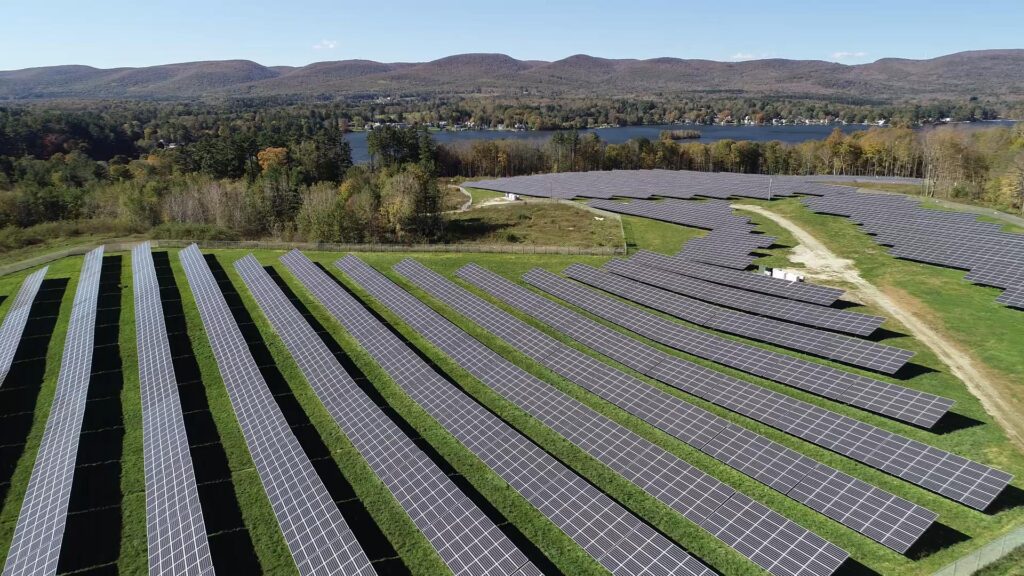 NuGen Capital Management, LLC was founded in 2010 by David Milner to invest in renewable energy and impact-driven enterprises that seek to improve the world. NuGen initially focused on solar energy/power, recognizing it was poised to grow rapidly and provide economic, community development and sustainability benefits. Since 2010, NuGen has grown from a solar focused company to a diverse investment platform. In addition to owning and operating over $200 million of solar projects, NuGen Go is a newly launched electric transportation investment company, NuGen Ventures invests in early and mid- stage companies and NuGen Investments invests in public markets, including SPAC IPOs, renewable energy companies and technology companies seeking to change the world. NuGen is deeply committed to social justice and social change and invests philanthropically through the RISC Fund as well as its own operating budget.
NuGen's First Developed Solar Site
NuGen Capital entered the solar industry in 2010 with White Rose Solar, less than a year after its foundation. This site was the largest rooftop in New Jersey at the time.
NuGen Expands in NJ Market
In May of 2012, NuGen Solar expanded it's New Jersey portfolio with two additional sites: 350 Clark & 333 RT 46. These two sites are the oldest in our current operating portfolio.
NuGen Enters MA Solar Market— 433 Purchase Solar
NuGen Solar entered the Massachusetts solar market in December, 2012. This initial site, 433 Purchase, allowed NuGen to enter the SREC I program.
NuGen Passes 10MW Operating Assets—651 Chase Solar
After closing multiple deals, NuGen Solar passed 10MW in operating assets after turning on 651 Chase in July, 2014.
NuGen Capital Announces Completion of 10 Mega-Watt Massachusetts Solar Systems
Sherin and Lodgen Represents Boston Private Bank & Trust Company to Finance NuGen Capital in Halifax, MA Solar Project
NuGen Passes 20MW Operating Assets—Halifax Solar
NuGen Solar continued to participate in the SREC I & SREC II programs. With the launch of Halifax Solar in July, 2015, the operating portfolio surpassed 20MW.
NuGen Passes 30MW Operating Assets—Old Wardour/Vuelta
In February of 2016, NuGen Solar acquired it's largest site duo to date. Together these systems are over 10MW and include a utility substation built by NuGen during the project. These sites increased the operating portfolio above 30MW.
NuGen is proud to be a part of the Greater Providence Chamber of Commerce as they celebrate 150 years by highlighting NuGen and other local businesses
NuGen Reaches 40MW Operating Assets—East Acres Solar
East Acres Solar was constructed in April of 2017. This is one of NuGen Solar's more recent sites, and increased our portfolio beyond 40MW.
Also Energy/NuGen Press Release: "NuGen Capital Management Improves Operational Efficiency with PowerTrack Recording"
NuGen Capital Announces Largest Single Rooftop Solar Project in Rhode Island
NuGen Enters RI Solar Market, Set to Pass 60MW in Operating Assets
NuGen Solar is now expanding into the Rhode Island solar industry. With two confirmed projects under construction, our operating portfolio is set to quickly pass 60MW.